My name is Pirina LATCHKOVA and I  am creator and designer of cardboard furnitures and objects.
I don't just make "ordinary" furniture, but offer original and unique art made from recycled material with functional purpose. Preserving the environment in our times is a great concern to all of us and I am happy that I can contribute to it with my kind of work. My creations are a combination of shapes and colors, while being environmentally friendly, light and very resilient.
Why cardboard furniture?
There are quite few reasons for the approach I had chosen. From the beginning, I was interested in the environmental aspect. Indeed, cardboard, recycled material, non-polluting, fascinated me. Its' resistance and the multiple ways of working with it attracted me. My imagination was sparkled on and I started my journey. I've been working with cardboard for already 10 years.
Moreover, in an increasingly consumerist world, using recycled materials is in agreement with my beliefs that we should preserve the environment and be in harmony with it. Rather than buying furniture,  I would indulge in the process of envisioning it and creating it with my own hands and ultimately end up with a work of art. This process gives me an enormous pleasure that few can imagine.
Finally, the lightness of the material (some thoughts for my moves, as well as those who want to acquire my furniture), including completed works and the final forms produced, have helped me imagine the movement,  the mobility I have lived during my stay in France but also in many different countries of the world that I have had the chance to visit personally and professionally.
My work
After several vocational trainings, I decided to make this passion my full time activity. In my studio, from simple cardboard sheets, with a pencil, a cutter and glue, I start with a pattern of the furniture I imagined. Whether it is a chest of drawers, a lamp, a bedside lamp, a table, a seat, a frame for a painting or for a mirror, my imagination knows no limitations. I can almost create everything with my cardboard in the most creative, square, rectangular, round, rounded, curved shapes, with volumes or not.
Once my furniture created and mounted, I then move to the decorative face. I play on materials, colors, shapes without any limitations except my imagination.
Finally, my work includes many different skills: design, architecture, crafts, engineering, decoration, painting … Every day, I think and learn new things, experiment techniques and new approaches. I invent my own life, my enchanted tomorrows.
I propose also practical workshops for those who would like to discover my universe and create their own volumes and furniture.
My course of life
Having left Bulgaria at the age of 20, shortly after having also acquired French nationality, I very quickly "fell" into the world of arts and culture. Thus, for 25 years, I have crossed all the domains of the performing arts, the literature, the cinema or the visual arts.
I was fortunate to be among the greatest artists of the world, Nobel Prize winner of literature, choreographers, filmmakers, painters or actors, my life was bathed in these multiple meetings. I constantly enriched myself to gradually think of my own creations, let my imagination sail along my desires.
Each encounter was an opportunity to learn more and more, to know that I could also do it, to dare to create. My meeting, now more than 10 years ago, with cardboard was the trigger of my personal creative process.
Today, I continue my quest and share my work, my creations, my knowledge … with all those who have a certain curiosity for all that is ecological, creative and innovative.
Vocational trainings 
May-June 2015- SCHMULB Studio (Perpignan, France)
September 2016 – CARTONNABLE ( Montpellier, France)
Exhibitions
May 2016, Gallery "Mission" of State Institut for Culture, Bulgarian Ministry for Foregn Affairs (Sofia, Bulgaria)
December 2016-March 2017, Gallery "O" (Evian, France)
Conducting a workshop for small cardboard furniture
May 2017, at the invitation of the Ruse Arts Gallery (Russe, Bulgaria), 7 participants
August 2017, at the invitation of the Arab Resource Center for Popular Arts (ARCPA / AL-JANA – https://www.facebook.com/aljana.arcpa) (Beirut, Lebanon), 11 participants
Enjoy 😉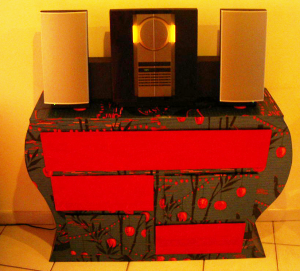 My first creation, a 5 drawers chest for HI-FI and CDs or other items.
Made with double corrugated cardboard, recovered at the Harley Davidson dealership in Marseille, decorated with red Nepalese paper and funny wallpaper purchased from Habitat.
This furniture is 7 years old!